NFL Referee Salary
The National Football League (NFL) pays its many referees top dollar depending on how much experience they have in the job. Here are a few NFL referee salary facts that you may not know:
In 2012 and 2013—
• Rookie NFL referees earned a salary of $50,000.
• NFL referees with average experience earned $149,000 per year.
• Veteran NFL referees were earning $160,000 salaries in 2012 and 2013.
The salary of NFL referees has been increasing.
By 2013 and 2014—
• Rookie referees were earning $78,000 per year.
• Referees with average experience have been earning $173,000 per year.
In 2019, NFL referees are expected to earn $205,000 per year. Considering that some referees work less than 21 days out of the entire year, that is insanely high. It averages out to about $9,762 per day that they work.
Considering how many people question the calls of NFL referees, a lot of people may be questioning how and why they earn that much money.
You may be asking: Why such a salary increase?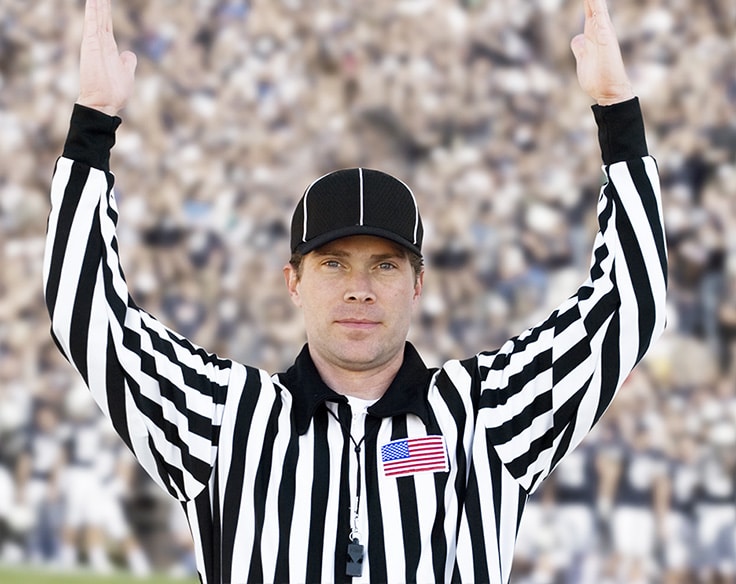 Again, many people question the process of how NFL referees are selected. Many of their calls are questions, and fans are almost never happy with referees of an NFL game.
According to NFL, they employ 121 officials who are evaluated by their Officiating Department weekly.
NFL also claims that each game has an average of 155 plays and the referees are typically accurate 95 to 97 percent of the time.
Additionally, the average age of NFL referees is 51 years old. It is said that they earn between $4,000 and $10,000 per game.
NFL referees earn far more than the average professional referee does. According to the Bureau of Labor Statistics, the median annual wage for umpires, referees, and other officials was just $26,800 in May 2017.
Referee's Union
In 2012, the NFL had a referee lockout. This labor dispute resulted in the NFL hiring replacement referees who were noticeably unqualified to referee at the professional level. This decision led to criticism from the media who called the replacement referees an embarrassment.
The use of unqualified referees even led to objection from the NFLPA (National Football League Player's Association) who worried for the integrity of the game as well as their own safety in light of what they called "simple greed" in a statement released to the team owners of the league.
In September of 2012, referees voted to approve a new eight-year contract with the league. The Referee's Union struck a deal with the NFL to raise their salaries by anywhere from 5% to 11% each year. While this may seem like a significant increase, NFL officials noted that their demands amounted to an annual cost of $3.2 million to the NFL, whose revenue is in the realm of $9 billion. The officials must have also taken into consideration the amount of missed Super Bowl parties when attempting to hash out the deal.
Notable NFL Referees
Ed Hochuli is an NFL referee with an average yearly salary of $149,000. He has been a referee in pro football since 1992 and is currently among NFL history's most famous referees. Ed Hochuli has refereed many Championship games and Super Bowl games. When he's not keeping the gridiron in check, he is also a partner in an Arizona law firm.
NFL referee salary raises are meant to reflect the costs of travel from NFL game to NFL game and money that must be spent on meeting fees.
In addition to the salary each NFL referee gets, they are also entitled to a 401K plan in which the NFL deposits an average of $20,000 per referee.
Salary Breakdown
A referee that earns a yearly $70,000 salary from the NFL makes $291.76 per day. This works out to be a weekly salary of $1,458 and a monthly salary of $5,833 every month.
The average NFL referee works 16 weeks each year. Mike Carey is among the NFL referees that earn a yearly salary of $70,000, having just started in 2013.
Looking at this breakdown, NFL referees make a more than liveable salary in the U.S.
Not only do they get paid to watch their favorite game, but they also have the best seat in the house!